Carlos Alcaraz v Frances Tiafoe: US Open tennis semi-final – live! | US Open Tennis 2022
*Alcaraz 5-6 Tiafoe (* – denotes next server)
Alcaraz plays the perfect drop shot ... except that it's just a little short. Tiafoe wouldn't have been able to get anywhere near it.
A good second serve prompts a long return from Alcaraz, and it's 30-0. Then it's a big-time winner down the line – ESPN says it's 102 mph – and a fist pump to make it 40-0. Alcaraz hits long on the next point, and Tiafoe holds at love.
Put a pin in this game. This could give Tiafoe a lot of confidence after a couple of shaky games on his serve. Alcaraz will serve to stay in the set.
Alcaraz 5-5 Tiafoe* (* – denotes next server)
Alcaraz is either the most precise player in the world or is getting very lucky with these shots on the line. At 15-15, he botches a volley at the net, but it catches a sliver of the line. A double fault, the first of the match, makes it 30-30.
Tiafoe safely returns the next serve, and that gives him a chance to earn set point. But Alcaraz outfoxes him and freezes Tiafoe with a winner down the line. Alcaraz wins the next one nicely, and he holds.
*Alcaraz 4-5 Tiafoe (* – denotes next server)
An exchange of shots barely going out gets us to 15-15, and then Alcaraz pounces to go up 15-30.
Then comes something rarely seen in professional tennis – an outright whiff on a service return, as Tiafoe puts on some sort of wicked spin or possibly telekinetic shift. At 30-30, Tiafoe hits one that dings the net cord and drops straight down on the other side. Alcaraz finds the net on the next point, and Tiafoe holds. These service games aren't entirely comfortable, though.
Alcaraz 4-4 Tiafoe* (* – denotes next server)
For once, Alcaraz does note lands his shot on the line, missing by millimeters, and Tiafoe is up 0-15. Alcaraz slams the door from there.
Only one ace in this match so far. A bit of a change from other matches we've seen.
One thing to watch: Tiafoe is 12-for-13 on his first serve. He's 6-for-13 on his second.
*Alcaraz 3-4 Tiafoe (* – denotes next server)
Uh oh. Alcaraz wins the first point with a solid winner, and Tiafoe rushes a shot into the next for 0-30. Tiafoe bounces back with a 134-mph ace, but he hits long on the next point to give Alcaraz a double break point.
Tiafoe makes efficient work of the first of those points. Alcaraz steps forward to attack Tiafoe's second serve, but he's a bit too eager and hits long.
Again, Tiafoe escapes with an unforced Alcaraz error off his second serve. Then he lands his first, gets to the net and smashes. Vital hold for the American there.
Alcaraz 3-3 Tiafoe* (* – denotes next server)
The proverbial rush of blood to the head strikes Alcaraz on the first point, as he hits long. Tiafoe is a little unlucky on the next two points and indeed in the rest of the game, with Alcaraz keeping Hawk-Eye busy with some shots hitting various lines.
*Alcaraz 2-3 Tiafoe (* – denotes next server)
One unforced error in an otherwise routine hold for Tiafoe.
OK, I'll quit the fashion commentary for a while.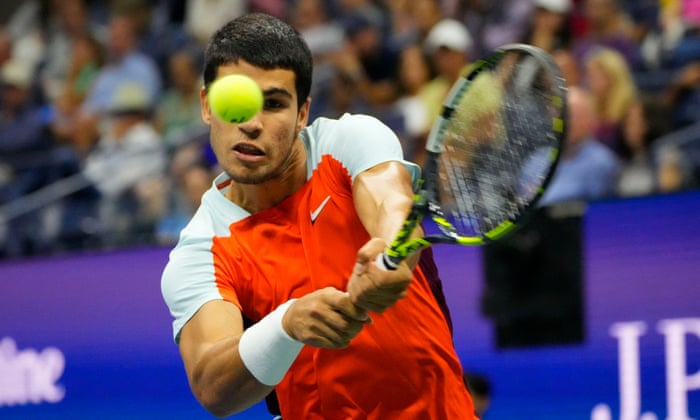 Alcaraz 2-2 Tiafoe* (* – denotes next server)
Are these guys wearing identical shirts? It's not completely obvious because the backs are white, while the fronts are mostly orange-ish.
Pretty sure I just saw Joel McHale.
Alcaraz holds at love. Not too much to analyze here. Big servers winning their serves.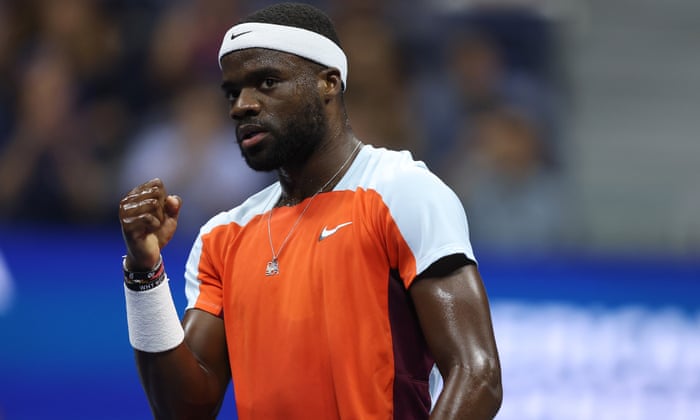 *Alcaraz 1-2 Tiafoe (* – denotes next server)
While I was listing celebrities, Tiafoe won the first three points of the game. A smash attempt goes awry after that, but Tiafoe holds with a forehand winner.
Alcaraz 1-1 Tiafoe* (* – denotes next server)
Alcaraz is hitting deep in these rallies. Too deep. Twice. 15-30.
But the Spaniard wins the next rally, and Tiafoe's effort at a cross-court return at 30-30 just barely goes wide. The next serve cannot be returned, and that's it.
Michelle Obama is sitting with Jill Vedder's (Eddie's wife), says rock fan John McEnroe. Tennis legend Stan Smith is sitting next to retired NFL wide receiver Larry Fitzgerald. This would be an amazing dinner party.
*Alcaraz 0-1 Tiafoe (* – denotes next server)
Tiafoe needs his second serve on the opening point, and Alcaraz makes quick work of it. Tiafoe lands the next two, forcing errors with each one.
Next up: A point with more angles than a 12-sided die, ending with an Alcaraz shot in which Hawk-eye shows that a tiny, minuscule, very small piece of the ball caught the line. Tiafoe responds with a solid winner, but he hits ever so slightly wide on the next point for deuce.
The next two points, though, are won with well-placed, powerful serves. Tiafoe holds his nerve and holds the serve.
Tiafoe will serve. He smiles. Here we go...
Prematch interviews: Tiafoe has a lot of respect for Alcaraz. Well, yeah.
Valid question for Alcaraz: How do you feel after more than nine hours on the court this week? "There's no time to be tired," he says with a smile.
Hoops wear...
Still no indication that we're getting close to this match.
So how is everyone today?
We have not yet seen player introductions. Maybe Alcaraz is taking a well-deserved nap?
Who's No. 1?
Current No. 1 Daniil Medvedev surrendered the top place when he lost in the round of 16 to Nick Kyrgios. But. 2 Alexander Zverev isn't competing in New York because of an injury. We know Rafael Nadal will not be returning to the top spot in the rankings, thanks to Tiafoe's win over the 36-year-old Spaniard in the round of 16 here.
If Alcaraz wins out, he'll be the youngest ever to be No. 1. If he loses here, Casper Ruud will be the first Norwegian to top the rankings. (Those factoids are from the ATP Tour itself.)
Ruud defeated Karen Khachanov this afternoon in a tidy three-hour match to reach the final, so if Alcaraz wins tonight, it'll be one of those rare head-to-head matchups to decide the king of the mountain.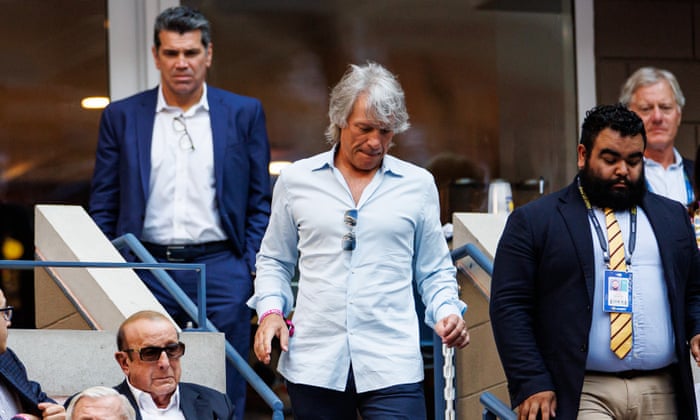 Ready for a matchup of an unstoppable force vs. a guy who has spent more time on the court this week than a lot of us have at work?
Frances Tiafoe of the USA! USA! USA! (trademark Guardian commentators) brings his uninhibited enthusiasm to Arthur Ashe Stadium again Spain's Carlos Alcaraz, who got here by winning a quarter-final match that lasted 5 hours and 15 minutes. That was his second straight five-setter, following a Round of 16 match that lasted nearly four hours.
Alcaraz, a rising star at age 19, is ranked fourth in the world. Tiafoe is 26th. But Tiafoe will have home court and has won the only matchup between the two – a 2021 encounter on clay in Barcelona.
Beau will be here shortly. In the meantime here's Tumaini Carayol's look back at Carlos Alcaraz's epic quarter-final win over Jannik Sinner.